4 "Only You Can Do" LinkedIn Habits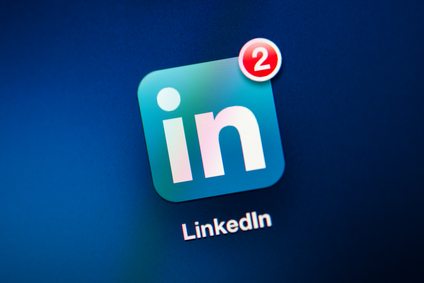 Nothing can ever replace your personal touch & outreach to colleagues. phoneBlogging is an efficient way to stay top-of-mind, break the ice & inspire questions/conversations. However, there are at least 4 LinkedIn tasks that only you can do – not pB, your partner, associates or assistants. These 4 only take minutes every day, and can even be done on your phone. When done consistently, they are the top 4 personal LinkedIn habits.
Log into LinkedIn to follow along (your pw is in your Master Checklist spreadsheet):
1) LinkedIn Inbox: In the upper right area of the LinkedIn menu (once logged in) – See the red flag?
a) Go through the Messages. These come into your regular (Outlook, Gmail) inbox but you may ignore them. Here you can delete unsolicited advertising (aka spam). Archive to hide those messages worth saving. You can forward it to others (like your assistant). Or, reply quickly.
b) Go through your Invitations: You need only connect with those you recognize. If you don't recognize the name, check out their profile to see if you can be helpful to them (not every contact has to be self-serving right away). You may get invitations from acquaintances right after a lecture, presentation or networking event.
2) LinkedIn Homepage Scroll & Click: Next, click the word home below the [in] icon (or click the icon). This will bring you to your LinkedIn Homepage. Scroll past the Pulse news (aka, a newsance).
See anyone you recognize? Are they doing or saying anything you Like? Click 'Like' (just like in Facebook). It'll remind them of you, generating good will. 'Liking' also shows your name (& profile link) to all of their 1st degree connections.
As a bonus, add a quick Comment. This is a public message that all of your contacts & their contacts can see. This is a good thing, so long as it's appropriate. FYI: You can click their Photo to see their profile & send a private Message.
3) Addthis.com/tools: Here's a quick way to post anything you read online to your LinkedIn home, multiple groups, Twitter (through LinkedIn), Facebook & G+. I suggest using Chrome (browser by Google). Use the link above to add-on this handy tool. Then, when you're on any website, click the + of Addthis to share it in seconds. Use this when reading other blogs, Google News, Huff Post, CNN, magazines, journals, etc. (Yes, you can use the Share buttons part of their site – but this is easier to find & turn into a quick personal habit).
To share a web article on your Facebook Business page: When you click Facebook in the Addthis plus icon, it'll say "Share on your timeline." Next to it is a down arrow, click that…. and it'll give you the option to "Share on a page you manage." Click that, and your business page will show. Then "Share Link."
4) LinkedIn Groups: Once you master the top 3 habits, you can move on to perusing LinkedIn Groups. Similar to scrolling & clicking through your LinkedIn homepage, only you can Like & Comment on interesting discussions in LinkedIn Groups. While you can join up to 50, it's hard to be active in so many Groups (just like off-line groups & committees). Focus on a handful – and be very active in these. For more tips about LinkedIn Groups read some of our other blog articles:
While the LinkedIn phone App isn't great, you can do all this stuff with just a few clicks in between appointments, on the train or during TV commercials. You might need Post-its or appointments in your calendar until these become habits. How many days will that take you?
Do you have any good LinkedIn habits to add? How has LinkedIn helped you network?
Vikram Rajan
Telephone: (516) 642-4100
Email: Vik@phoneBlogger.net
Website: phoneBlogger.net