Boost Newsletter Results in 1 Minute: Constant Contact QuickSend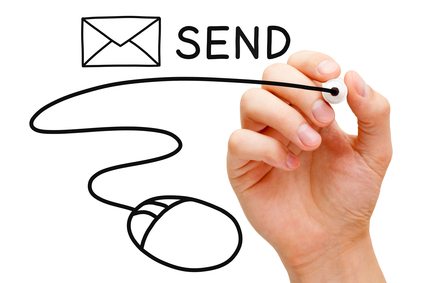 How many times do you check your LinkedIn or Facebook during the day? And how often do you check your email? Despite all the social media hype, studies continue to show the greater efficacy of email newsletters. Sent via platforms like Constant Contact, you can track the results like:
Who opens your email
Who clicks on which link
Who forwards your email
And at what time/day they did any of the above.
Sending through Constant Contact is also important in order to stay compliant with the anti-spam laws, like the U.S. CAN-SPAM Act & the July 2014 Canadian Anti-Spam Law (CASL). Basically, sending a mass blast through your Outlook or Gmail may be in violation of those systems' terms of use; it may be in violation of the law; plus, you can't automatically track your results!
However, tracking results is just the beginning: As my earlier blog article emphasized, marketing is all about the follow-through. This is where a handy feature of Constant Contact really shines: It's called QuickSend. Once you send your newsletter, go into its Reports & keep on clicking the Number of Click-throughs until you can see the actual email addresses of those who clicked that particular link.
You can then select whom you want to follow-up with (ignoring those who may already be clients; who you're already in constant contact with; or maybe… your mother). You can also quickly Select All by checking off the box to the left of 'Name.'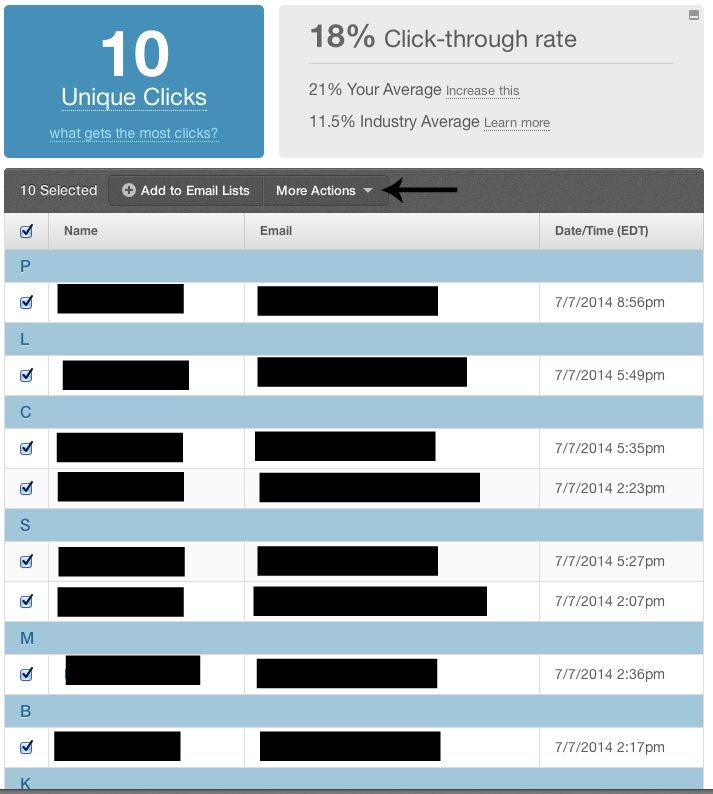 After you select addresses, an option in the dark gray bar (see image) will appear that says "More Actions." Click that to select: QuickSend. Doing so will bring up previous emails to quickly send to those selected.
To use this feature as a 1-minute Follow-up tool, you should FIRST set up a simple (generic) follow-up email stating something to the effect of, "Did you get my latest Newsletter? Did you find any of the articles useful? Any questions? Know of anyone else that would like it?"
Of course, you could be more forthright, "I see that you clicked into my newsletter. Thank you, did you have any questions?" But admitting such tracking can seem creepy & invasive! 🙂
Once you've set up this Follow-up email (keep it short & simple), you can then Quickly Send. After a few days, this is a great reminder for those who clicked but didn't contact you (yet). This (semi) personal touch can spark referrals & invitations.
What do you think? Let me know (& others) how it works for you.
I am one of the Top 3 "Authorized Local Experts" for Constant Contact in NYC. I've been asked by them to teach the business community such hidden bells & whistles. Email me (vik@phoneBlogger.net), if you'd like to spend 30 minutes by Phone reviewing your use of Constant Contact (Reports, QuickSend, design best practices). I get rewarded by them; thus, no cost to you.
Speaking of such rewards, I am regularly invited by Constant Contact to train on how to maximize their newsletter results. So much so, that I have been invited to record 6 radio commercials for them. You can listen to 5 of the Small Business Marketing Tips that I offered over the airwaves of 1010 News, WCBS, WFAN, Fresh102.7 & other radio stations in the Greater New York metro area via the videos below:
Click the videos below to listen to each of the 1-minute "marketing tips" via YouTube:
Coming up with New Topics


2 Ways to Use Photos 


Growing Email Lists


Subject Lines


Email Links

Have you been able to use any of these tips? Got any creative ideas for how to use Constant Contact's QuickSend feature?
Vikram Rajan
Telephone: (516) 642-4100
Email: Vik@phoneBlogger.net
Website: phoneBlogger.net