I'm Not Going to Sit Next to You & Other Networking Tips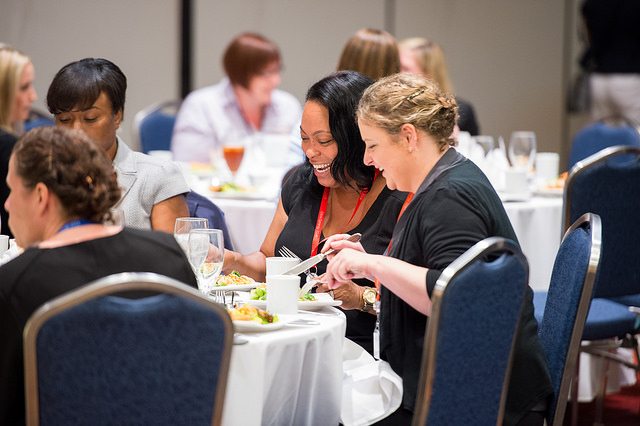 When you go to a conference or a networking event, do you find yourself congregating with your partners, colleagues, associates & friends? Stop… and get to work.
I was just at the Michigan State Bar Association annual conference: I am on the team helping to onboard their members onto their new lawyer portal, like its own LinkedIn for Lawyers. It's being powered by ZeekBeek.com. As I walked into one of the luncheons with the CEO of ZeekBeek, I turned to him and said, "Sorry, I'm not going to sit next to you."
We had discussed the strategy beforehand so it wasn't offensive: "Divide & conquer" is a harsh way of putting it, but it gets the point across. Even as co-founders of phoneBlogger.net, when Mark & I walk into a conference luncheon or dinner, we quickly separate. We're not there to talk to each other: We're there to meet new people. This is an opportunity for you to start, build & nurture new relationships.
Those you know who aren't familiar with this networking strategy, or who are uncomfortable with it, or aren't interesting in "working the room," will congregate with you. It's awkward to separate yourself. A subtle approach only attracts future & more coagulation, like simply stirring oil & water. Be direct; shake it up. One way is to share this article with them & discuss beforehand, "We shouldn't be next to each other in the room."
I'm glad to see familiar faces in the room too. Sometimes a simple smile & wave will do. Other times I'm happy to have a quick chat: I like catching up & getting updates. If it's really worth exploring, I prefer to cut it short with, "Can we set up a time when we're both a bit more focused?" Whip out the smartphone calendars.
And when I need to move on: "It was great to see you. Why don't we both work the room? Know anybody here?" If yes, I just scored myself a warm introduction. No? I gesture to a small group, "Why don't we meet them?" If your colleague isn't interested in working the room, he'll let you know: "Nah, it's OK. You go ahead." Either way, it's time to be a Sidler.
Finally, when we all must sit down – and I prefer to lay back as long as possible – I like the back of the room. It's where the sales happen:
It's where authors (like me) hock their product.
And it's where "the bad boys" (quietly?) continue talking while the MC & speakers are underway.
Plus, food & coffee.
Oh, and store clearance sales.
Besides, I like the energy of standing rather than anxiously sitting: I can check my email & Facebook later.
But then there are those times when I am forced to sit down: I am not going to sit next to you. No. If I can help it, I will leave the seats next to me empty. This way, I'm close enough to strike up conversations with you & my other neighbors without invading their space: Nobody likes a close talker. Moreover, as those conversations wane, I get to strike up more conversations when those seats get filled. I may even facilitate introductions, donning the table emcee role, as Connectors do.
If Mark & I are ushered to sit together, we politely accept. "We'd rather not sit next to each other," just sounds awkward. After all, the host is trying to be nice. When out of eyeshot, we're both in sync & need not repeat the title of this article to each other. I'll usually get up first & beeline to the back of the room (desserts).
Have you found yourself in any awkward situations? Do you naturally follow these networking tactics, or where did you pick them up? Any other examples of how you work the room? Looking forward to learning from your experiences too!
Vikram Rajan
Telephone: (516) 642-4100
Email: Vik@phoneBlogger.net
Website: phoneBlogger.net

One Response to I'm Not Going to Sit Next to You & Other Networking Tips