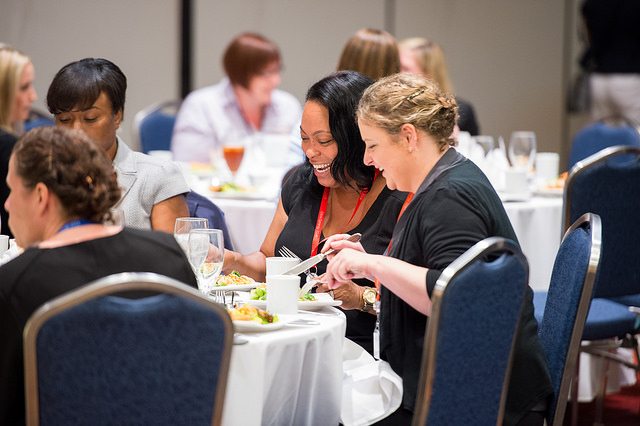 When you go to a conference or a networking event, do you find yourself congregating with your partners, colleagues, associates & friends? Stop… and get to work.
I was just at the Michigan State Bar Association annual conference: I am on the team helping to onboard their members onto their new lawyer portal, like its own LinkedIn for Lawyers. It's being powered by ZeekBeek.com. As I walked into one of the luncheons with the CEO of ZeekBeek, I turned to him and said, "Sorry, I'm not going to sit next to you."
We had discussed the strategy beforehand so it wasn't offensive: "Divide & conquer" is a harsh way of putting it, but it gets the point across. Even as co-founders of phoneBlogger.net, when Mark & I walk into a conference luncheon or dinner, we quickly separate. We're not there to talk to each other: We're there to meet new people. This is an opportunity for you to start, build & nurture new relationships.
A client recently expressed disappointment in a poorly attended networking event with a self promoting organizer.  His feeling was that it had been a total waste of his time.
I remember attending an event where the self-important organizer/speaker droned on and on – I didn't want to sit there listening to him "waste my time".  I almost got up and left – then I got an idea; – what if I set aside my cynicism for a moment, raised my hand, and in a positive way, asked a question about what he was droning on about?  What if I participated in the conversation – maybe even converting the unwelcome speech into a conversation?